Welcome to Our Blog!
About Grace Christian Huynh

Hello. My name is Grace Huynh. I live in Texas in the United States of America. I'm currently in college studying to be a pharmacist.
Whenever I go out, the first thing people usually notice is my hair. People ask me a lot of questions about it, so I'll try to cover all of the ones I remember here.
I've been growing my hair for 19 years. That means that I've never cut it. People ask if I grow my hair
because of religion or if culture, but that's not it at all. I just always liked having long hair. One time, when I was a toddler, my mom tried to cut my hair, but I wouldn't let her. I started to cry, so she let me keep my hair. Around that time I won the "Prettiest Hair" title (and many more) in a national baby pageant called, America's Most Beautiful Baby in 2001.
Since then, my mom has helped me take care of my hair such as washing and brushing it until I turned 15. Ironically, she is a hairdresser. I do get my hair trimmed and I have cut my bangs, as you can see in my "The Greatest Birthday Gift" post. I'm trying to let my bangs grow out now.
People also ask me how long it is. I try to give an approximate measurement, but quite frankly, I've never actually taken the time to measure my hair. Since it is nearly touching the floor, I would say it would be 5 feet and 4 inches long since that is my height. I usually get asked to take a picture or asked if I would mind my hair being touched. I have even been asked permission for a sniff of my hair.
Another frequently asked question is how I have grown my hair so long. Besides the help of my mom in the previous years and proper techniques for maintaining healthy hair, in the end it is God who has blessed me with what I have. Basically my hair routine is: I wash my hair about twice a week. My hair doesn't get too oily and washing hair too often can damage it. I typically get quality shampoo because my mom owns a salon. I have used MATRIX brand shampoos and sometimes Paul Mitchell shampoos. It takes about 45 minutes to an hour to blow dry my hair. Air dry time would probably take half the day. Once every six months I get a hot oil treatment.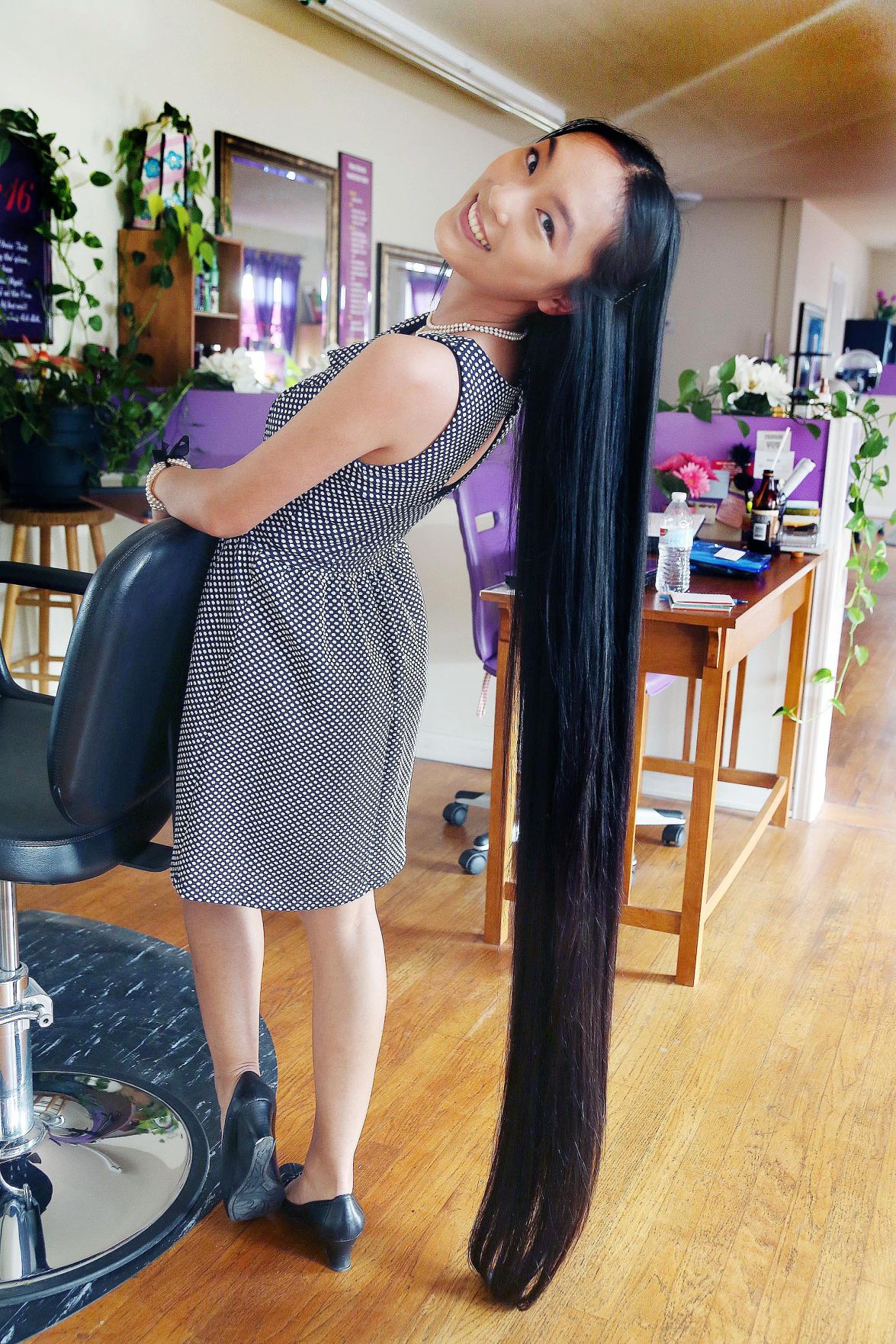 Overall, I get a positive vibe from complete strangers about my hair. Although I am awkward and shy and I always find myself tongue-tied, I realize that those moments are the perfect moments to bring people to my website and ultimately to God.
"But if a woman have long hair, it is a glory to her: for her hair is given her for a covering." (I Corinthians 11:15)
Click here: http://www.wacotrib.com/news/robinson-student-credits-god-for-her-long-locks/article_9740f2c9-63ec-536d-9d25-83152501af03.html to read the article on Waco Tribune-Herald about my long hair: "Hair Down to There."
About Jay Christian Huynh

My name is Jay Christian Huynh. I live in Texas with my parents and sister. I'm a guy who likes technology a lot, and so I'm taking a lot of tech classes at school. Unlike my sister, I don't actually have anything specifically special about me.
Since I was little, I loved building whatever I could with Legos; including space ships, airplanes, boats, houses, and guns. Now, I read God's Word every day and write articles in my spare time. Like my sister, I'm usually awkward around other people. God has blessed me with all that I have, and I am grateful for His blessings.
Grace Christian Huynh & Jay Christian Huynh
12/30/2012 (Updated 09/01/2014)(Updated 01/09/2016)